Details

Written by

Bill German
Hard to believe it's been eight years since I last posted on this blog. And yet, I'm still getting asked to speak in public about "Under Their Thumb." In fact, I'm headed to Chicago this week to appear on a TV talk show and to deliver some lectures.

The Stones will be in Chicago at the same time, opening their "No Filter" tour at Soldier Field, but I haven't yet decided if I'll go. For one, I dislike almost everything about stadium concerts. If you've read my book, you know I'm a bit spoiled. I've seen the Stones jam in some pretty intimate settings – not just
in nightclubs and small theaters, but in recording studios and places like Ron Wood's basement – so I prefer those to be my lasting musical memories of the band.

Secondly (and I address this in "Under Their Thumb"), the Stones' ticket prices nowadays are way out of hand. Far above the pay grade of this particular starving writer. There are no freebies on the 2019 tour and, even if there were, I'm not sure I'd wanna figure out the maze I'd need to go through to get one.
(As some of you are aware, the band's appointed "Ticket Lady" passed away recently.)

But the big reason I'm undecided is that, knowing that each Stones experience may be my last, I feel I need a great "storyline" before I plunk down the dough. And while I realize that nothing will top some of my previous experiences, I do want something that'll make the concert especially memorable.
After seeing them in 2006 at the Beacon Theatre, I told myself that was it. I'll never need to see 'em again. The Stones pulled out numbers like "Loving Cup" and "I'm Free," and it was all filmed by Martin Scorsese for his "Shine A Light" documentary. But the show's personal significance goes way beyond
that for me: The Beacon Theatre, which holds just 3,000 people, is walking distance from my apartment, meaning it quite literally hit home.

Additionally, the Stones' support act that night was former president Bill Clinton. No joke, he came onstage before the Stones to deliver a speech about world poverty and the environment. No matter what you think of him or his wife nowadays, it's always exciting to see an ex-president in person, especially if said president is opening for the Stones. That doesn't happen too often. I later ran into him and Mrs. Clinton in the hallway of the theater, in addition to Elvis Costello and Vaclav Havel (the poet-turned-prisoner-turned-president of the Czech Republic and a huge Stones fan). A pretty frickin' memorable night.

But on top of all that, and on a deeply intimate note, that Beacon show was the last Stones concert I ever attended with Dessie, my live-in girlfriend, who died of breast cancer in 2010. As some of you are aware, I partly dedicated "Under Their Thumb" to her (while she was still alive to see it). We first met at
a Stones' theater gig in 1997 – by fate or coincidence, we were seated right next to each other – and there we were, at yet another Stones theater gig, scenes of which are now preserved for me in a Scorsese film. So yeah, I'd have been content if the Beacon 2006 show was my last Stones show ever.

But then my phone rang in December 2012. The Stones were playing Brooklyn – the New York City borough of my birth; it's even in my book's friggin' subtitle! – and a friend of mine (a well-known radio DJ) had an extra ticket. I actually told her to "Let me think about it."

But a minute after I hung up the phone, I called her back: "Who the fuck am I kidding? Of course I'll go! But I feel like Pacino. Every time I think I'm out, they pull me back in! First they play the Upper West Side (the neighborhood I've been living in for decades; home of the Beacon Theatre) and now they play Brooklyn, where I grew up!" So yeah, I went to the 20,000-seat Barclay's Center and caught the show, only one of three concerts the Stones performed in America that year. And the only time in their now 57-year career that they've ever played Brooklyn.

I can retire from Stones concerts, I thought.

But then a friend called me in 2013, saying he had a so-called "Lucky Dip" ticket for Philly with my name on it. Those hard-to-find Lucky Dip tickets, as you may know, only cost 30 bucks or so, but you don't discover where you're sitting until you get to the venue. I explained to my friend that I needed to have
a "storyline" before I'd agree to go, and, after pausing for a minute, it came to me: Philly is where I saw my first-ever Stones concert (at JFK Stadium in 1981).

"Prefect!" I told him. "My FIRST Stones show was in Philly and my LAST Stones show will be Philly! Full circle!" And so, on June 21, 2013, I sat in some very decent seats inside the Wells Fargo Center (20,000 capacity) and witnessed Aaron Neville join the Stones on a cover of "Under The Boardwalk" and Mick Taylor join them on "Can't You Hear Me Knocking," both of which were true rarities. In fact, many hardcore Stones observers consider it the best show of the 2013 tour.

What more could I want? I got my "full circle" thing, I got Mick Taylor, I got Aaron Neville. I'm done.

And then came Tel Aviv. I have friends and relatives who live in Israel (including Svi, the real-life character from my book) who'd been trying to get me to visit for years. It is, after all, the land of my ancestral heritage. Some even chided me for having visited Germany – to see the Stones' Urban Jungle
tour in 1990, of course – before ever visiting the Holy Land. A bunch of 'em said, "Well, I bet if the Stones ever came to Israel, you'd finally come." And I replied, "It's a deal. If the Stones ever visit Israel (which seemed like an impossibility), I'll be there."

Well, the Stones played Tel Aviv's Hayarkon Park on June 4, 2014, and I lived up to my promise. And as someone who attended yeshiva as a kid (the Jewish equivalent of parochial school), it was a thrill for me to hear Mick Jagger speaking to the crowd in Hebrew. (Frankly, his Hebrew was better than mine!
Granted, he was reading phonetically off a Teleprompter, but he nailed it! He also spoke some Arabic. The crowd loved it.) In the days prior to the gig, Mick, Charlie and Ronnie visited some of the famous sites (such as the Western Wall and the Church of the Holy Sepulchre), but Keith stayed in his room at
the Dan Hotel, inviting me (and Svi) to have lunch with him. (Long story for another time, but I actually had to turn Keith down.)

Point being, I found another great storyline for my last-ever Stones show: A kid brought up in the world of Judaism gets to see some of the ancient relics (I'm referring to the Stones) in Israel. Shalom, we're done.

And to date, that's the last Stones show I've been to. Like I said, if you've read my book, you'll appreciate why paying 500 bucks to see the Stones in a stadium doesn't have much appeal for me. I'd rather remember 'em the way I saw 'em in some nightclub or in Woody's basement.

But that's strictly my own personal perspective. I would never discourage anyone from seeing a Stones concert in 2019 and I would never dismiss anyone else's opinion about the subject. We're all coming from our own unique experiences. I have no doubt that the Stones will put on a bunch of incredible shows this summer and that the 50,000 people packed into each stadium will leave with a feeling of – dare I say it – "satisfaction."

But with days to go before the tour's debut, I still haven't found the storyline I'm looking for.
Details

Written by

Bill German
I just got my hands on the Brazilian edition of "Under Their Thumb."  It was published a few weeks ago, translated to Portuguese, and is available through Saraiva (Brazil's version of Barnes & Noble).  The Stones have a huge following in Brazil -- evidenced by their 2006 concert in Rio, which drew a million people -- so I'm pretty excited.
I don't speak Portuguese, so I don't know how certain Americanisms translated, but I do see that the book contains a handful of clarifying footnotes.  In chapter 6, for instance, when I liken a conversation I'd had with Keith to an Abbott & Costello routine, they've got a footnote that reads: "Serie animada que contava a historia dos comediantes Bud Abbott e Lou Costello."  I guess "Who's on first?" didn't have the same impact on Brazilian culture as it did in America.
The biggest difference, as you can see below left, is that they changed the cover image.  I've always felt that the photo on the U.S. edition (and British edition, below right) captured the book's essence: You've got Keith and his bottle of Jack, walking the streets of Manhattan, with 17-year-old me behind him (handing an issue of my fanzine to an off-camera Ronnie Wood).  It demonstrates the Stones' accessibility during a magical time and place in their history.  Even the truck and "No Parking" sign in the background scream New York City.  But I didn't object to this new cover photo because I fully understand that, to market a book to a lot of young fans in Brazil, they've got to put Mick on the front instead of just the author and Keith.  (By contrast, I got a kick out of how the British publisher played up the book's author -- by adding an arrow and the word "Me!")
It's also interesting to note that "Brooklyn" was removed from the Brazilian edition's sub title.  While Brooklyn still holds some cachet and/or piques curiosity in certain parts of the world (including England), it's apparently waning, or never existed, in others.
Translating between cultures can be a tricky job, no doubt.  I remember how Ricky Ricardo would yell in Spanish whenever he got upset.  Most of us Americans -- including Lucy Ricardo -- had no idea what he was saying, but that's part of what made it funny.  So my question is, when the show was dubbed into Spanish, did they dub Ricky's rant into English?  Like I say, translating cultural humor can be a tricky proposition.
I'm told that France is next on the "Under Their Thumb" translation schedule.  Maybe they'll keep the original cover image and Photoshop the Eiffel Tower behind Keith instead of that "No Parking" sign.
Details

Written by

Bill German
It's going to be a tough Father's Day for me.  My first one without my dad.  Bernie passed away three weeks ago from diabetes, at the age of 77.
Whenever someone marvels at the fact that I didn't become a drug addict while hanging around the Stones, I tell 'em I owe it all to Bernie.  As I explained in "Under Their Thumb," my dad possessed a sense of self-discipline that he passed on to me by example.  He might have had a drink after work, but nothing more.  He might have gambled in A.C. or Vegas twice a year, but, win or lose, that was enough for him.  And when his doctor told him to give up his beloved cigars, he did so the next day, cold turkey.
Bernie took some tough jobs during the 1970s recession -- like driving a delivery van during the freezing New York winters -- just so he could put food on the table for me and my family.  I learned by watching him that you could have fun and pursue your dreams, but that you couldn't shirk your responsibilities and commitments.
I mean, here was a guy who let me quit college to follow the Rolling Stones.  While other parents were going, "My son the doctor," he was left to say, "My son the fanzine publisher."  I easily could have messed it up and thrown my life away with drugs and booze.  But I knew I couldn't let my parents -- or the subscribers to my fanzine -- down.  I may have hung out with Keith and Woody till sunrise, but I never forgot that there was work to be done when I got home.  Ultimately, I kept my 'zine running for 17 years, thanks to that strong sense of commitment I inherited from Dad.  In fact, today (June 3) would have marked his and Mom's 55th wedding anniversary.
Dad was blind for the last few years of his life, so he never got to read "Under Their Thumb."  But I'm glad he'll live on in its pages.  I partially dedicated the book to him, and I've got a photo in there (different than the one below) of the time he and my mom met Keith.  Dad didn't care about the Stones -- "Fiddler on the Roof" was more his speed -- but he appreciated that Keith was an important person in my life and wanted to thank him.  He introduced himself at a party -- "Hey, Keith, we're Bill's parents" -- and they got along swimmingly.
Dad taught me to view the glass as half-full.  Whenever he'd reflect upon his poor vision -- which he'd struggled with since childhood (unrelated to his diabetes) -- he wouldn't complain.  "Well," he'd say, "at least my bad eyes kept me out of the Korean War."  He tried to see the good in every person and in every situation, and that's a trait I'll carry with me the rest of my life.  So maybe I'll use this Father's Day to celebrate my dad's life, not to lament his death, and it won't be so tough after all.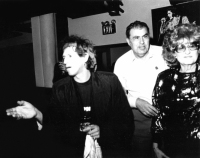 Details

Written by

Bill German
My favorite Stones concert of all time -- no, wait, my favorite concert, period -- took place twenty-five years ago tonight, February 23, 1986, at a small nightclub in London.  And no one, not even the Stones, knew in advance that it was going to take place.
The Stones -- who were not getting along at the time -- agreed to gather at the 100 Club to memorialize Ian Stewart, one of the band's founding members.  "Stu" had passed away two months earlier of a heart attack, at age 47.  Two hundred people were invited to the memorial, including yours truly.  In order to attend, I rushed to the passport office to obtain my first-ever passport.  I knew that all five Stones would be there, but there were no plans for them to actually play.  The only expected entertainment was Rocket 88, the boogie woogie jazz group that Stu helped form in the late '70s.
But shortly after Rocket 88 left the stage, they were replaced by Mick, Keith, Ronnie, and Bill.  Charlie showed up late, so Simon Kirke of Bad Company sat in on drums.  "Let's do some songs Stu would want to play," announced Mick.  They launched into "Route 66," followed by "Down The Road Apiece."  "This is totally improvised," added Mick.  "Any requests?  Yell 'em up."
Charlie eventually showed up, marking the first time that the five Stones had played onstage together in four years.  (It would be another three years before they'd play again.)  Seeing the Stones in a small nightclub (for free) was mindblowing enough for me, but it reached surreal proportions when some of their mates joined them onstage.  Eric Clapton hopped up to play "Key To The Highway," "Confessin' The Blues," and "I'm A Man."  And Jeff Beck crammed in for "Bye Bye Johnny."  Clapton then made way for Pete Townshend.
I wrote extensively about this show in Volume 2, Number 9 of Beggars Banquet and a bit about it "Under Their Thumb" (pages 104-105; photo on page 100).  But for now, here's the set list, with guest guitarists in parentheses.  (Note that Charlie didn't replace Simon Kirke until after "Little Red Rooster."  Also note that Chuck Leavell played piano on several songs.)  The thing I love about this set is that it included no Jagger-Richards compositions, emphasizing that this night was about Stu, not the Stones.  In fact, the other remarkable part of this night is that the Stones didn't make a dime.
Rolling Stones (and guests) at the 100 Club, London, 2/23/86:
Route 66
Down The Road Apiece
Key To The Highway (Clapton)
Confessin' The Blues (Clapton)
I'm A Man (Clapton)
Bye Bye Johnny (Beck, Clapton)
Harlem Shuffle (Townshend, Beck)
Little Red Rooster (Townshend, Beck)
Meet Me In The Bottom (Townshend, Beck)
Dust My Broom (Clapton, Townshend)
Little Queenie (Clapton, Townshend; Jack Bruce replaces Bill Wyman)
Visit the News page at Beggars Banquet Online for details of a 2011 Stu tribute involving all the Stones.
Details

Written by

Bill German
People have been asking me what I think of Keith's book, "Life."  So far, I've only had the chance to skim through it, so I don't feel entitled to give a full review.  I've enjoyed the little I've read -- mostly jumping to the stories I personally witnessed -- but have caught several chronological errors.  Nothing too egregious, but some of the mistakes present a problem for anyone who's read "Under Their Thumb."  Who got it right, German or Richards?
To be fair, I've caught a couple of errors in my own book since its publication.  On page 257, I state that sax man Bobby Keys began touring with the Stones in 1972.  It's true he made his American debut with the band that year, but he'd already joined them for their 1970 and '71 tours of Europe and the UK.  I've long enjoyed bootleg recordings from those tours, so I should've caught my error sooner.  But I didn't, and it made it into my book.
My other inaccuracy comes on page 214.  I'm telling Keith's friend Freddy Sessler that the Stones have never announced an audience member's birthday onstage.  "The Stones aren't Willard Scott," I tell him sarcastically.  "They don't do birthday announcements.  They've NEVER done a birthday announcement."  Well, I recently watched the film "Ladies and Gentlemen" and was surprised to hear Mick deliver such a shout-out during a 1972 concert.  I'd seen that film several times as a kid, but didn't remember that part.  (And of course, when you think about it, the Stones must have regularly done birthday announcements when they were playing school dances in 1962.)
But speaking of Freddy Sessler: A lot of people tell me he was their favorite character in my book.  I have a chapter in "Under Their Thumb" about him getting busted in Las Vegas during the 1994 "Voodoo Lounge" tour.  Keith alludes to that same incident in "Life," but says it was on the 1999 "No Security" tour.  It's no big deal and doesn't change the outcome of the story, but I can assure you that "Under Their Thumb" got it right, and "Life" got it wrong.  I was with Freddy that day, and Keith wasn't.
You want another "Life" error?  Well, I feel funny correcting Keith about the date of his father's death, but that's another place where our books disagree.  On page 345 of "Under Their Thumb," I state that Bert died in 2000, while on page 546 of "Life," Keith states it was 2002.  Granted, Bert was Keith's dad, not mine, and Keith's the one who snorted him, not me.  But I'm right, Keith's wrong.  Maybe he just blocked it from his memory.
Like I said, Keith's errors are of no significance to most of his readers, and they are far from the most controversial parts of his book.  I mention the two examples here only because they clash with "Under Their Thumb."  I mean, Keith has that bit in his book about the size of Mick's genitalia, and I can offer no personal knowledge about that.